5 Reasons to Visit the Brand New LUX* North Male Atoll Maldives
Opened in early 2019, the brand-new LUX* North Male Atoll Maldives is the second LUX* resort to grace the Maldives, settling in the six-hectare Olhahali Island. The resort is refreshingly unique with edgy and modern architecture and eye-catching ocean-inspired interiors. Guests can indulge in a new level of fine luxury and breezy sophistication. They can also enjoy generous living area of a minimum of 350 square meters in any of the 67 two-story residences, each graciously located on the gorgeous beaches or over the crystal blue lagoon. If you would like to be one of the discerning travellers seeking the enriching experience the resort provides, read on to find out the five reasons why LUX* North Male Atoll Maldives is worth a visit.
Location
The amazing location is the best thing about the Maldives since you will be surrounded by lush marine life, which you can relish from the comforts of your luxurious villa. Each accommodation option has its own private beach so you revel in tranquillity and privacy or even better some offer the aquamarine waters of the ocean to be literally under your feet. In addition, the size of the island is not so grand so you can easily walk from one to the other and there is also an island host, who can provide a ride to any destination. The finest of all, the location delivers stunning views of the lovely landscape and blue lagoon.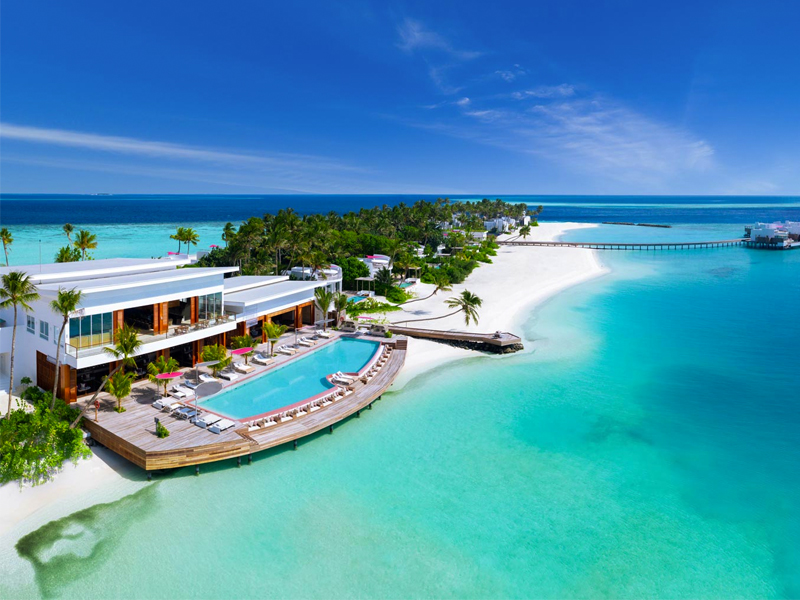 Facilities and Activities
You are invited to explore the state-of-the-art facilities and wide range of activities. As an exclusive oasis LUX* North Male Atoll offers a luminous LUX* Me SPA, which sits peacefully over the beautiful lagoon, creating the perfect ambience for body and mind development. You will be welcomed by a team of friendly and expertly trained therapists, who will provide world-class treatments, including body scrubs, lush aromatherapy bathing rituals, Watsu sessions and many more.
Blessed with a splendid reef, the island is ideal for snorkelling and diving enthusiasts to venture in the turquoise waters of the Indian Ocean and engage with the exquisite marine creatures. For the adventurous types there is also the PADI dive centre and exclusive access to Maldives' most prominent shipwreck incidents and caves. The LUX* resort is also equipped with an expert in Marine Biology, who can further expand your knowledge and give you advice on where to discover the most unique sea animals.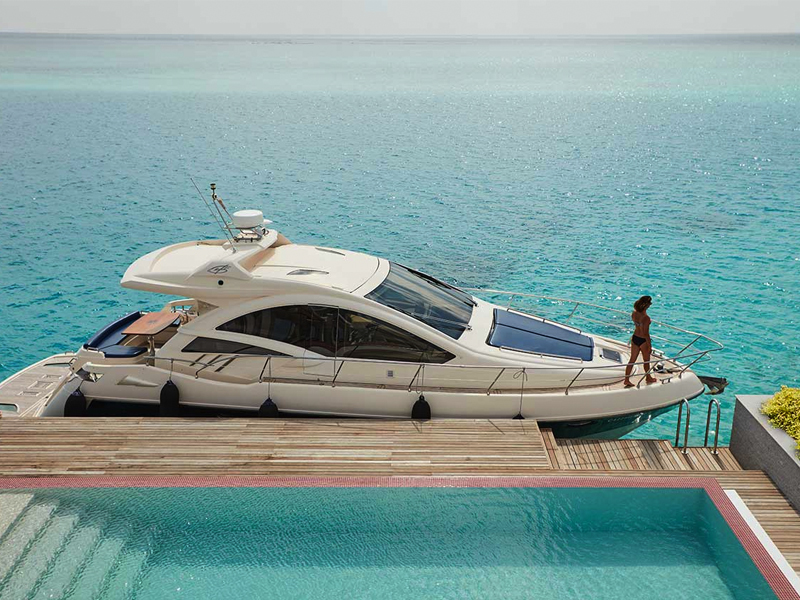 Accommodation
Enormous is one term you can use to describe each villa and residence. Stretch in a tonne of space and come out on your roof terrace, where breath-taking views await. Nestled in among palm trees and lavish exotic greenery, each two-storey beach villa has been designed to define luxe and offers expansive infinity pool and luxury bathrooms. An exclusive touch only for this brand new resort, the residences boast a fully-equipped furnished 120-sqm reef terrace and a marvellous private sun deck, which rises over the lagoon to let you fully admire your magnificent surroundings. Indulge in ultimate intimacy and privacy with LUX* North Male Atoll.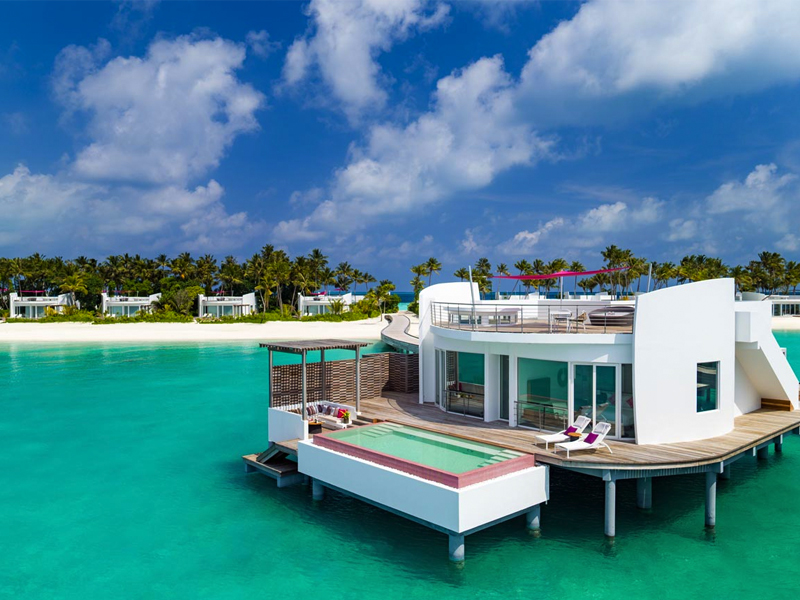 Dining
Embark on a unique culinary experience at any of the sumptuous dining venues, which are all only a few steps away. Laid back glamour or intimately opulent, at LUX* North Male Atoll you are promised a divine experience not to forget. Each venue benefits from the resort's location, featuring majestic views to suit your discerning lifestyle. From breakfast to dinner and any spontaneous cravings in between you will find a menu to fit your mood. Indulge in laid back casual bites at the convenience of Beach Rouge. Revel in intimate dinners and serene ambience at INTI, featuring the finest of Peru and Japan signature dishes. As for the start of your lovely days you should definitely tease your taste buds with sumptuous pastries and an artisanal steaming cup of coffee at Café LUX*. Relish the warm sunny days with a cool snack from the ICI Gelato Bar.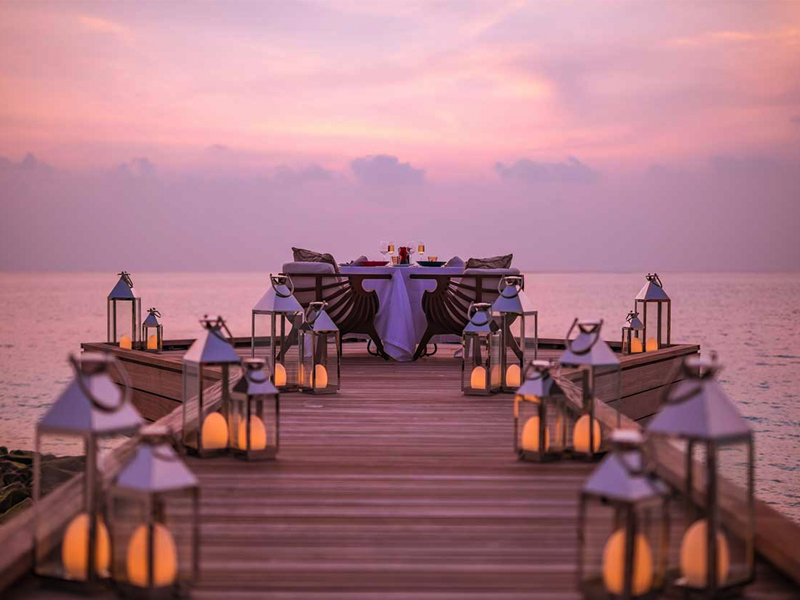 Wedding and Honeymoon Packages
We all dream of the perfect wedding ceremony, featuring a soft ocean breeze, gorgeous sandy beaches with the stunning island sunset as a backdrop. LUX* North Male Atoll is thrilled with pleasure to help you personalise your ideal wedding in one of the most immaculate location in the Maldives.
As for honeymoon couples the resort welcomes you with a lavish fruit platter and fine bottle of champagne upon arrival. During your stay you will have the exclusive opportunity to indulge in a luscious romantic bathtub experience and a luxury couple massage at LUX* Me SPA.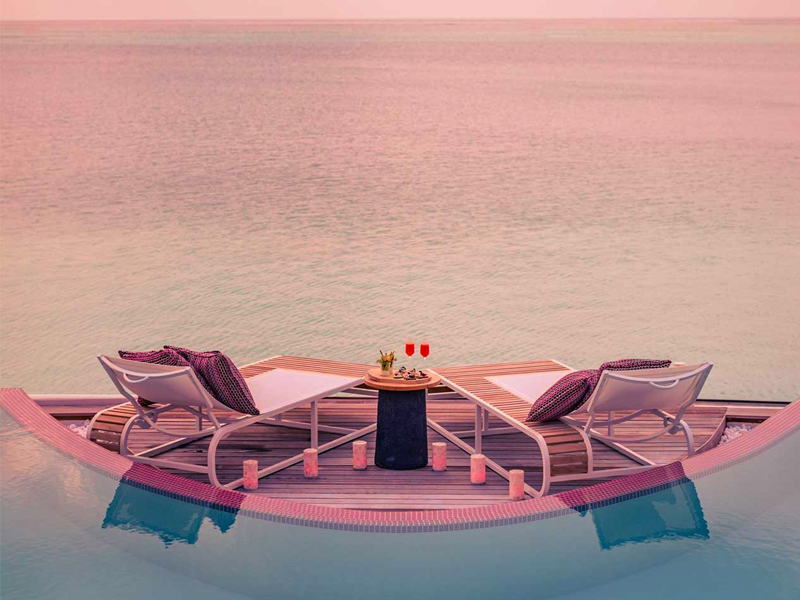 Inspired by our 5 top reasons to go to LUX* North Male Atoll Maldives? Request a quote online or call us on 0121 446 4932
Everything you need to know about the brand new LUX* North Male Atoll Resort
The stunning, brand new LUX* North Male Atoll is opening February 1st 2019 with bold luxury features that will make you re-imagine what staying at a luxury resort in the Maldives feels like. From double storey residences, superpanache yacht experiences and a secret door that leads to a hidden chamber for a dinner to remember… Read on to discover just some of the highlights of this brand new Maldives resort.
Penthouse Pleasures…
All accommodation at LUX* North Male Atoll are designed as oversized penthouse residences, so whether you're looking to visit as a family or on honeymoon, there's plenty of room for all guests to enjoy ultra luxury on this paradise island. Whether over the lagoon or on the beach, each residence measures a minimum of 350 sqm and is available in one, two or three bedroom residences. Each penthouse is elevated by a spacious roof top deck, which offers the most breathtaking views of the lagoon.
Exclusive All-Inclusive
LUX* North Male Atoll offers a luxurious all-inclusive package, which includes a wide selection of drinks with over 80 wines and 40 cocktails! Plus there's a mini bar in the Penthouse for a more personalized experience where you can sip drinks of your choice any time of day and night! When it comes to dining choices at LUX* North Male Atoll, guests can experience cuisines from around the world from award-winning cuisine at MIXE to Peruvian-Japanese fare at INTI. If you're celebrating a honeymoon, birthday or special occasion, why not ask for a private rooftop terrace High Tea or sundowner cocktails on your penthouse roof for an experience to remember?
Underwater Utopia…
The Maldives homes some of the best diving sites the world has to offer and LUX* North Male Atoll features a world-class PADI diving centre, that allows you to explore some of the top diving sites nearby. The resort's private lagoon is a playground for keen snorkelers too, with accessible house reef to explore!
Honeymoon Island…
Celebrating newly married life? LUX* North Male Atoll offers a range of facilities so that you and your newlywed can enjoy a romantic Maldives escape in paradise. Enjoy relaxing spa treatments for two in your penthouse, including romantic bath ceremonies with flower petals or a full champagne bath! Enjoy a romantic splash in the ocean with a complimentary one-hour underwater photo-shoot with an in-house resident photographer – look out for the sea turtles to snap up a memorable selfie!
Enjoy Island Life at Beach Rogue
Located in great location for you to kick back and enjoy the pool as the lagoon and Indian Ocean is in view, Beach Rogue offers casual lunches and romantic dinners at the water's edge. Or, if you prefer, enjoy a lazy brunch with the day-to-night menu that's designed to be shared. During night, Beach Rogue changes scene into an upbeat venue with DJs and great drinks to enjoy.
Island Escape For Families
PLAY kids club offers children between 3 and 11 years daily programmes with expert supervision. Activities include Cake Boss decorating, art classes and an outdoor Cinema Paradiso to watch movies in the moonlight. For teens aged 12 to 17 there are plenty of energetic activities as well as art studio classes and introductions into the marine life that surrounds the island! Little in-room details such as baby phones, sterilizers, bottle warmers, strollers and more can be included upon request!
Find The Secret Floor To The Hidden Chamber For A Unique Dinner Experience…
Families and couples can both enjoy the experiences found at Barium, which is private and secluded area designed for personalized dining experiences. The wall-to-wall style aquarium gives guests the impression of being under water and 'dining with the fishes'. This unique dining experience is for you and your guests only with personal butlers that lead you through tailor-made menus cooked by award-winning chefs!
Superpanache Yact Experiences
Explore the open seas of the Indian Ocean in style on board the ultra-luxurious LUX* Superpanache Yacht, which is fully stocked so you and your loved ones can enjoy cocktails, dancing and romantic dinners! There's also the option to arrange an International DJ, private butler and chef for a bespoke experience. With the option to stop off at an untouched island for a picnic to remember, and the use of your own personal photographer, all your memories will be captured as you and your loved ones truly take in this incredible experience.
Inspired by the brand new LUX* North Male Atoll? Contact us today for more info.
Maldives Family Holiday Packages at LUX* South Ari Atoll
Family holidays to the Maldives are a great way to get everyone together for a week or two of ultimate relaxation. At LUX* South Ari Atoll there are plenty of facilities for the family to enjoy well-deserved and quality time together on a beautiful island with luxurious amenities for families.
Family Lagoon Pavilion
The Family Lagoon Pavilion at LUX* South Ari Atoll Maldives is a fantastic accommodation choice for families with babies or children. Set on the pristine, white sandy beach, you and your family will have direct access to the beach and the glistening waters to enjoy water activities and a splash around!
PLAY and Studio 17
A family holiday at LUX* South Ari Atoll Maldives offers a wealth of experiences for your children, with a separate kids and teens club. For ages between 3 and 12, PLAY is a dedicated club for your little ones to explore exciting island life, by being supervised by a trained team member to explore the nature and culture of the island. As well as this, PLAY offers a range of outdoor and educational activities such as Teddy Tennis lessons, art classes and treasure hunts.
Teenager's can enjoy the complimentary teen's club, Studio 17, which is for ages between 12 and 17. It's great for teens to socialize, hang out and explore the island. Activities include local dance and language classes, beach sports and adventure trip around the island.
PLAY and Studio 17 are open everyday from 9am to 7pm
Water Sports
Make use of the glistening Indian Ocean surrounding LUX* South Ari Atoll with a range of fantastic water sports. If you're looking for adrenaline-filled fun on the water, why not master the flyboard-hoverboar mini flight around the lagoon? If speed is more your thing, grab a jet ski and whiz around the island for an unforgettable experience. Other water sports include topcat sailing, windsurfing, kitesurfing, fishing for your own meal, stand up paddle boarding, kayaking and much more.
Luxury sailing cruise
Bring the family along on a day out at sea for a luxury sailing cruise, whether its at sunset or to spot the dolphins, LUX* South Ari Atoll can tailor-make your excursions for you and your family.
Diving and snorkeling
What better way to experience the Maldives than to explore the Indian Ocean's exciting underwater world? Whether it's a snorkeling trip or a diving excursion, the sheltered lagoon offers incredible viewings of stingrays, coral fish, baby black-tip reef sharks and occasionally, the manta ray!
All Inclusive Package at LUX* Maldives
The LUX* Maldives South Ari Atoll, is an all-inclusive holiday resort that only dreams are made of! Set in the heart of the Indian ocean, the beauty of this island paradise is unparalleled with its warm, azure waters, radiant and colourful gardens, and white powder sand beaches. The tropical climates of these assortment of island havens make the LUX* Maldives the perfect escape to experience some of the world's most earthly pleasures. As an all-inclusive Maldives resort, visitors can relax in the knowledge that everything from accommodation, and meals to some activities is included. With an array of restaurants offering cuisine from around the world, pampering packages at its very own wellness spa, and activity centre allowing visitors to explore the both the island sporting scene and depths of the cobalt blue ocean, this is an idyllic romantic getaway for honeymooners and couples looking to celebrate an anniversary.
Guests can enjoy endless days enjoying the warm rays of the sun tickling their skin, or nights gazing up at the stars as they savour the flavours of authentic island cuisine. The open-air restaurants are set out along the beaches, under the shade of thatched roofs with breath-taking views of the Indian Ocean; sit back whilst the chefs dazzle their you with their culinary skills from the live cooking stations, where everything from, grills and stir fries to wood fired pizzas are available to indulge your palettes. The restaurants are also fitted with slow moving fans which create a soothing breeze to escape the intensity of the tropical sun. Also included in the all-inclusive Maldives packages is a wide selection of beverages not only the island bars and restaurants (except Umami) but also within the room mini-bars.
All Inclusive Activites
Discover the beauty of LUX* Maldives with the wide range of water and land sports available. With an all-inclusive Maldives holiday, guests have unlimited access to LUX* Me fitness, the island gym centre, or they can engage in a bit of friendly competition on the floodlit tennis courts (rackets only provided), or take in a game of table tennis, beach volley or bocce balls. Other optional activities available include; tailor made training sessions at the gym, beach yoga, indoor games centre, billiards, table soccer or even a scenic bike ride around this idyllic island.
All Inclusive Watersports
From land to water, you can delve into the depths of the deep blue Indian Ocean with complimentary reef snorkelling, kayaks, pedals boats with scheduled snorkelling trips included in the all-inclusive Maldives packages (weather and tide dependent). Explore the surrounding marine waters further on an optional private catamaran trip and picnic parties to neighbouring islets. Back on the island, other optional, once in a lifetime experiences available at the boathouse, include; windsurfing, rubber ring and banana boat rides, fly boarding, water-skiing, wakeboarding and jet skiing (all at an additional fee).
Complimentary Yoga
After an adrenalin fuelled day of activities, guests can retreat to the blissful serenity of LUX* ME, the island sanctuary where a vast selection of bespoke experiences and treatments are available. Whether it's a full head to toe spa experience or simply a deep, unwinding massage, you will be left feeling replenished and rejuvenated! All-inclusive Maldives guests receive the added bonus of complimentary Yoga stretching classes, access to the Sauna, Steam Room, Plunge Pool and Spa Garden (Adults only).
For an all-inclusive holiday at LUX* Maldives contact us to find out more about an All-inclusive Maldives holiday, and make this your reality!
7 reasons to stay at LUX* Maldives
Not sure if LUX* South Ari Atoll has what you need for that incredible Maldives holiday? Think again with our 7 reasons to stay at LUX* Maldives…
1.Families
LUX* South Ari Atoll makes sure there's something to enjoy for the entire family. Children aged 3-12 can enrol in PLAY, a programme run by a team of highly trained and wholehearted individuals offering children a chance to take part in outdoor activities and high-energy sports. They offer a range of activities, ranging from Teddy Tennis lessons through to Treasure Hunts! Studio 17 is a free teens club! Guests between the ages of 12-17 are able to explore the island in groups, or just relax with others their age! Again this is run by enthusiastic supervisors, who put on activities for the group- these include local dance, beach sports and exciting adventure trips!
2.All Inclusive Luxury
With up to 10 restaurants and bars to choose from, going all-inclusive at LUX* South Ari Atoll makes perfect sense, with everything included from accommodation through to breakfast, lunch and dinner! Contact us to learn more about the LUX* All Inclusive Package.
3.Endless Activities
LUX* Maldives Resort has its very own water ports centre with world-class PADI diving centre and is one of the most unique spots for seeing whale sharks, which can be seen all year round!  Offering snorkelling, stand up paddle boarding, jet ski sessions and so much more! If you prefer to take part in land-based activities, LUX* offers tennis, volleyball, relaxing sessions of beach yoga and cycling.
4.Weddings & Honeymoons
LUX* offers the perfect tropical island wedding backdrop! The wedding experts of the island will invite you to choose from a selection of sun, sea and sand settings. The island's policy of one wedding per day means that couples can take advantage of a peaceful atmosphere, to help create the intimacy that your wedding deserves. LUX* can also organise a renew of vows, with endless possibilities, whether in the form of the groom arriving on a jet ski, or local touches to create a special feel to your special day.
5.Overwater Villas
Romantic Pool Water Villa measures 110 sqm villa, suspended on stilts over water. The water villa pool offers comfort and tranquil privacy with access to your own pool. The interior mixes traditional cabana architecture with contemporary aesthetics, complete with a curved television or a home theatre system!
Temptation Pool Water Villa is designed for couples wanting the best views of the sunrise and comfort with 220sqm of opulent space. This villa comes complete with an outdoor terrace, hosting a cabana and a 14meter infinity pool.
6.Seaplane ride 
Enjoy an unforgettable seaplane ride from Male Airport to LUX* south Ari Atoll. An experience in itself, the seaplane ride is one of those jaw-dropping moments, where the stunning Indian Ocean unravels its atolls and idyllic island that make up the magical Maldives!
7.Spa in style
With 15 exclusive spa villas, including 4 water villas for treatments, take a day out from the beach and retreat to the spa to soothe those jet lag muscles, or to soothe your mind. The spa features plunge pools sauna with hammam bath, Yoga grove, spa boutique and a beauty room.
Inspired by our 7 reasons to stay at LUX* Maldives? Contact us today and start planning your incredible Maldives holiday!
Welcome to Lux* Maldives South Ari Atoll
Pure Destinations is very pleased to announce the launch of our new website Lux-Maldives.co.uk
As an organisation we have over 25 years experience in travel, particularly Maldives and we think we know a great resort when we see one, so as this island is opening we decided to create this dedicated website so that everyone can understand what makes this paradise island so great.
LUX* Maldives – The perfect Maldives Holiday. Just 20 minutes from Male International Airport, this picture-perfect paradise island has everything you're looking for in a Maldives holiday.
So take a look around the site and familiarise yourself with all that this wonderful resort has to offer.