Opened in early 2019, the brand-new LUX* North Male Atoll Maldives is the second LUX* resort to grace the Maldives, settling in the six-hectare Olhahali Island. The resort is refreshingly unique with edgy and modern architecture and eye-catching ocean-inspired interiors. Guests can indulge in a new level of fine luxury and breezy sophistication. They can also enjoy generous living area of a minimum of 350 square meters in any of the 67 two-story residences, each graciously located on the gorgeous beaches or over the crystal blue lagoon. If you would like to be one of the discerning travellers seeking the enriching experience the resort provides, read on to find out the five reasons why LUX* North Male Atoll Maldives is worth a visit.
Location
The amazing location is the best thing about the Maldives since you will be surrounded by lush marine life, which you can relish from the comforts of your luxurious villa. Each accommodation option has its own private beach so you revel in tranquillity and privacy or even better some offer the aquamarine waters of the ocean to be literally under your feet. In addition, the size of the island is not so grand so you can easily walk from one to the other and there is also an island host, who can provide a ride to any destination. The finest of all, the location delivers stunning views of the lovely landscape and blue lagoon.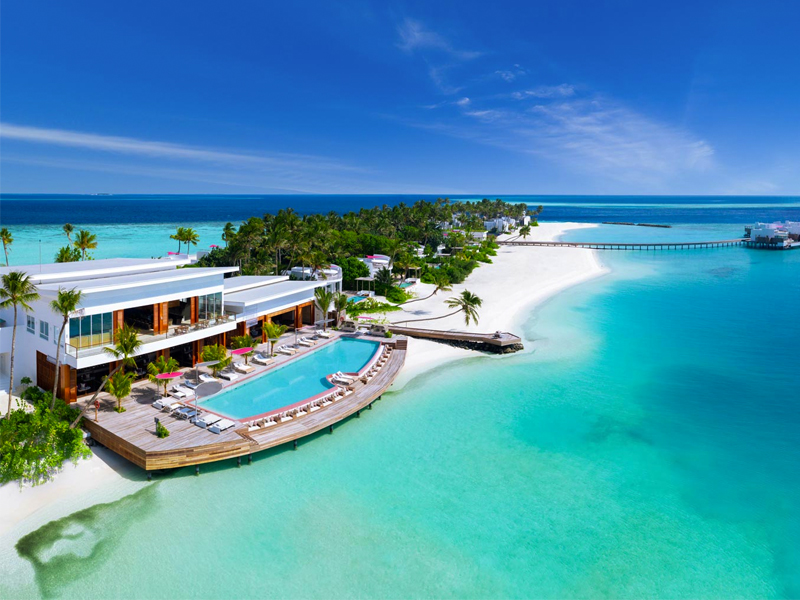 Facilities and Activities
You are invited to explore the state-of-the-art facilities and wide range of activities. As an exclusive oasis LUX* North Male Atoll offers a luminous LUX* Me SPA, which sits peacefully over the beautiful lagoon, creating the perfect ambience for body and mind development. You will be welcomed by a team of friendly and expertly trained therapists, who will provide world-class treatments, including body scrubs, lush aromatherapy bathing rituals, Watsu sessions and many more.
Blessed with a splendid reef, the island is ideal for snorkelling and diving enthusiasts to venture in the turquoise waters of the Indian Ocean and engage with the exquisite marine creatures. For the adventurous types there is also the PADI dive centre and exclusive access to Maldives' most prominent shipwreck incidents and caves. The LUX* resort is also equipped with an expert in Marine Biology, who can further expand your knowledge and give you advice on where to discover the most unique sea animals.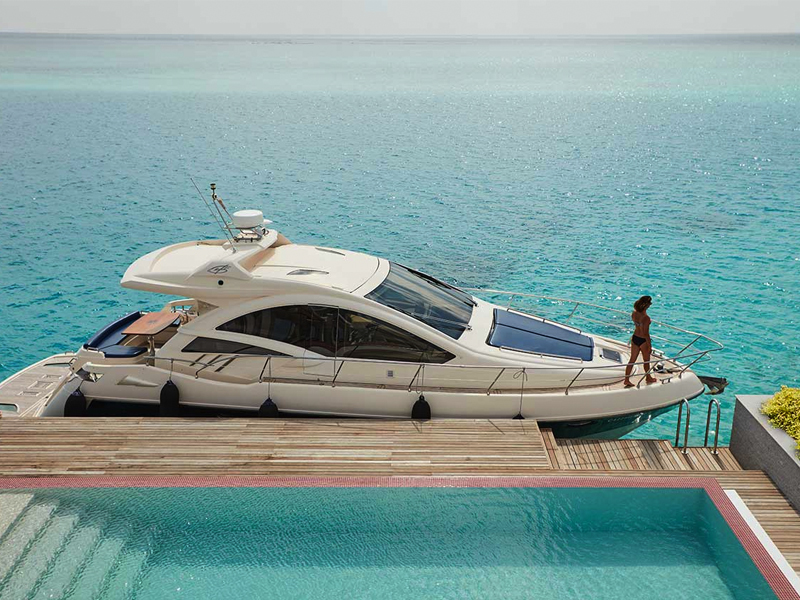 Accommodation
Enormous is one term you can use to describe each villa and residence. Stretch in a tonne of space and come out on your roof terrace, where breath-taking views await. Nestled in among palm trees and lavish exotic greenery, each two-storey beach villa has been designed to define luxe and offers expansive infinity pool and luxury bathrooms. An exclusive touch only for this brand new resort, the residences boast a fully-equipped furnished 120-sqm reef terrace and a marvellous private sun deck, which rises over the lagoon to let you fully admire your magnificent surroundings. Indulge in ultimate intimacy and privacy with LUX* North Male Atoll.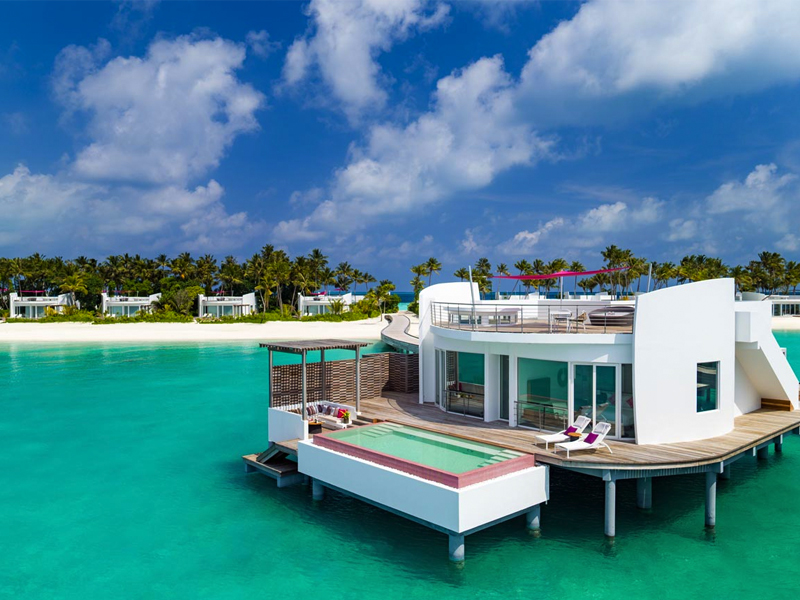 Dining
Embark on a unique culinary experience at any of the sumptuous dining venues, which are all only a few steps away. Laid back glamour or intimately opulent, at LUX* North Male Atoll you are promised a divine experience not to forget. Each venue benefits from the resort's location, featuring majestic views to suit your discerning lifestyle. From breakfast to dinner and any spontaneous cravings in between you will find a menu to fit your mood. Indulge in laid back casual bites at the convenience of Beach Rouge. Revel in intimate dinners and serene ambience at INTI, featuring the finest of Peru and Japan signature dishes. As for the start of your lovely days you should definitely tease your taste buds with sumptuous pastries and an artisanal steaming cup of coffee at Café LUX*. Relish the warm sunny days with a cool snack from the ICI Gelato Bar.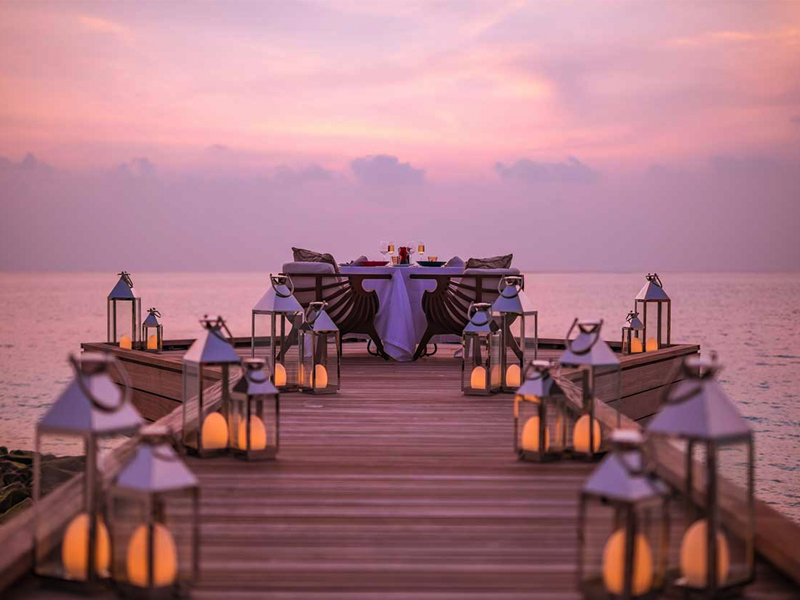 Wedding and Honeymoon Packages
We all dream of the perfect wedding ceremony, featuring a soft ocean breeze, gorgeous sandy beaches with the stunning island sunset as a backdrop. LUX* North Male Atoll is thrilled with pleasure to help you personalise your ideal wedding in one of the most immaculate location in the Maldives.
As for honeymoon couples the resort welcomes you with a lavish fruit platter and fine bottle of champagne upon arrival. During your stay you will have the exclusive opportunity to indulge in a luscious romantic bathtub experience and a luxury couple massage at LUX* Me SPA.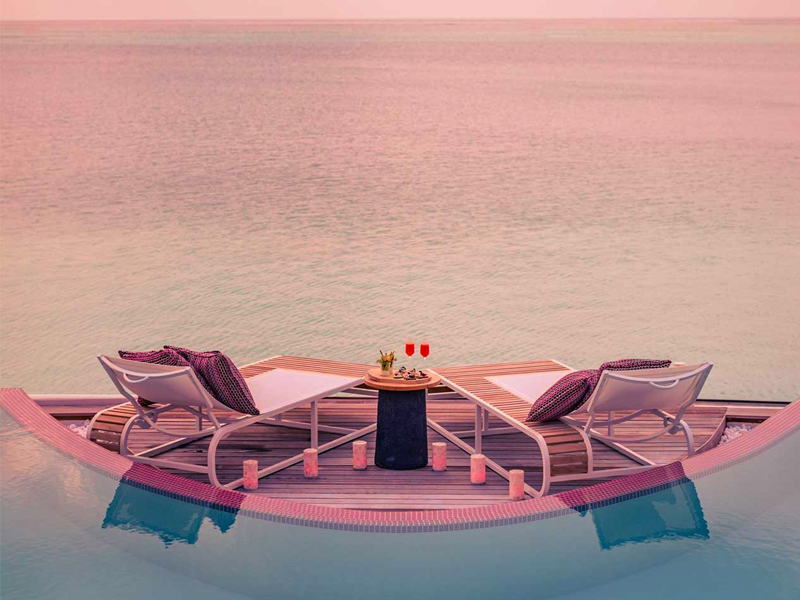 Inspired by our 5 top reasons to go to LUX* North Male Atoll Maldives? Request a quote online or call us on 0121 446 4932